Demetri Hughes
Managing Director + Brand Counsel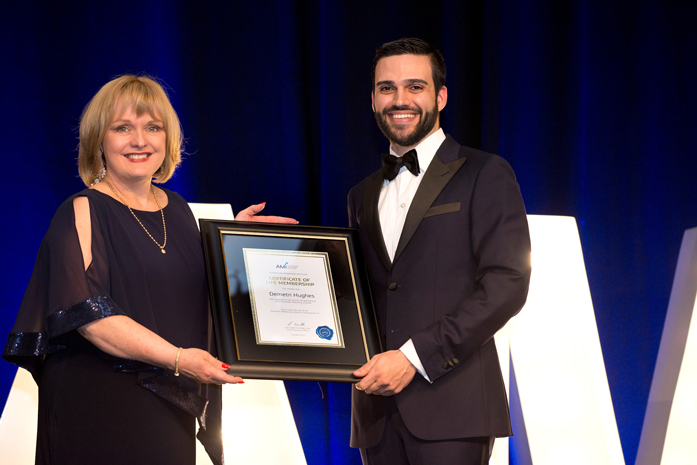 Demetri Hughes
BBus Management, MBus(IMC), MBus(PublicRelations), CPM
Demetri Hughes is one of the foremost experts in branding, marketing and communications; issues, crisis and reputation management. He consults with organisations spanning throughout the state, nationally and overseas.  With an extensive client list including CEOs and board directors, he brings to the table in-depth experience and battle-tested strategies that solve issues for clients and outwit competitors.
Between 2015 and 2019, Demetri served as the Queensland State President of the Australian Marketing Institute (AMI), the peak marketing body in Australia since 1933.  In this role, he represented the marketing and communications industry by travelling extensively around Queensland and interstate to speak at functions and events, and advocating for practitioners.  He served in this role whilst continuing to manage his consultancy business delivering solutions to clients.
In recognition of Demetri's enormous contribution to the marketing and communications industry, he was in 2017 made the youngest ever Life Member of the AMI by their national board.  He was also nominated by practitioners and subsequently awarded the 'Certified Practising Marketer of the Year (Queensland)' in 2016 and 2018.
Over the years Demetri has developed a unique approach in spearheading the rebuild and restoration of corporate reputations and brands.  His postgraduate research focused on the niche area of litigation crisis management and the growth, protection and management of brands through challenging environments.  He is committed to delivering strong outcomes for businesses to enable that they do not have to face the prospect of closure or shrinking in market position or profits.
Prior to establishing 1Up Communications, Demetri was one of a few non-lawyers to be regularly called upon to advise leading law firms and retail franchises on ways to grow their businesses.  Earlier in his career he began with developing his professional skills in the property and construction sectors which culminated in him establishing and growing a family group of businesses with a combined property portfolio worth in excess of $15 million.
Today, Demetri continues to be a sought-after expert delivering tailored training to many large domestic and foreign businesses.  For instance, he delivered over consecutive years customised marketing, branding and communications training to representatives from the second largest steel resource company from the People's Republic of China, an organisation with operations spanning the globe.  He also keynotes at industry events and conferences across Australia. Select examples include the Australian Dental Industry Association, Institute of Managers and Leaders, Club Managers' Association Australia, Griffith University Strata Title Conference, World Tourism Forum Lucerne, and Australian Insurance Law Association.