Demetri Hughes
Managing Director + Brand Counsel
BBus Management, MBus(IMC), MBus(PublicRelations), CPM | Life Member, Australian Marketing Institute
Demetri is one of the foremost experts of branding, utilising multiple skills across marketing, crisis management and public relations.  He is widely known as a fixer committed to achieving brand prosperity for clients, having earnt a reputation serving as a bold, progressive and pragmatic strategic thinker – willing to take on the toughest of organisational challenges.
Prior to establishing 1Up Communications, Demetri was and still is one of few non-lawyers to be regularly called upon to advise leading law-firms on ways to grow their operations, as well as on matters related to litigation crisis management for their clients.  Over the years Demetri has developed a unique approach to ensuring the rebuilding and restoration of corporate reputations and the development of corporate brand concept.
Demetri's early background in his teens, started with him developing his skills working in the property and construction sector, culminating in Demetri by the age of 21 having grown under his leadership a firm and its five subsidiaries to a combined property portfolio worth in excess of $15 million.  More recently, Demetri served as the consultant COO for a state wide franchise responsible for the implementation of a successful expansion strategy in a highly competitive but slow market.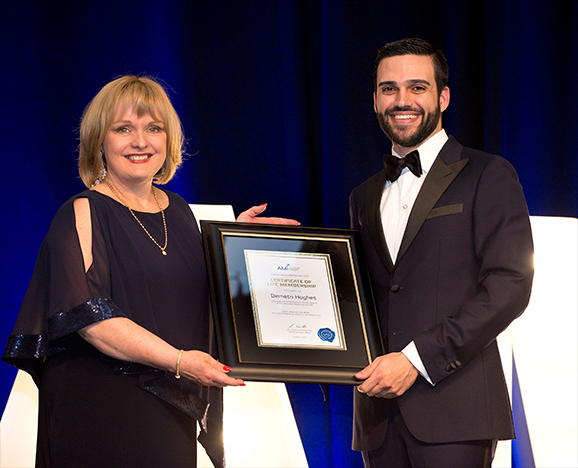 Demetri was the Queensland President of the Australian Marketing Institute, he was made a Life Member in 2017 by the National Board in recognition of his service to the marketing community and was awarded Certified Practising Marketer of the Year (Queensland) both in 2016 and 2018 respectively.
Demetri's client list is extensive and includes CEOs and board directors, along with organisations at a state, national and multi-national level.  He has converted challenges to opportunities, even in environments where other businesses in the same sector have either all shrunk or gone out of business.
He is one of only a few in Australia who are admitted as a Full Member of the Public Relations Society of America.